NETEASE DETAILS MASSIVE DEAD BY DAYLIGHT MOBILE UPDATE
2022-09-27
Dead by Daylight Mobile continues to grow, and we're always striving to make improvements for our players.

We have been listening to feedback, and rest assured that we have heard your concerns. In order to elevate the game to new heights, we teamed up with our friends at NetEase, who bring no shortage of expertise and experience in the wonderful world of mobile gaming.
With NetEase at the helm, Dead by Daylight Mobile will kick off this new era with a massive update, bringing many exciting additions and improvements into the game. While there is an abundance of content to unpack, we've got you covered with some of the most notable changes. And don't worry-while this is technically a new version of Dead by Daylight Mobile, all your account progress and purchases will be compensated or transferred following this transition.
Here are a few, but not all, of the additions coming to Dead by Daylight Mobile.
IMPROVED GRAPHICS
Dead by Daylight Mobile has undergone major graphical improvements, providing a more immersive experience. Players can look forward to the addition of physics on the clothing and hair, dynamic shading and lighting, and a full visual overhaul on the quality of all characters. Dive into The Fog to see for yourself!

THE RIFT
For the first time, The Rift is coming to Dead by Daylight Mobile. The 80 tier Battle Pass will run for a two-month period, with the next season beginning immediately thereafter. The Rift consists of free and paid reward tracks, with the latter offering a Battle Pass exclusive Gold outfit on its 80th and final tier. By playing matches and completing tasks, players can progress along the track to gain cosmetic items, loot box draws, and more.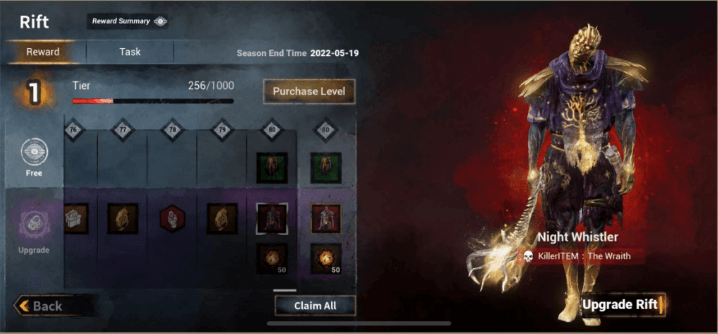 LEADERBOARDS, SQUADS, & CHAT
Fuel that competitive spirit and aim to reach the top 100 in two new seasonal leaderboards. The first one measures player skill based on ranking and emblems, while the second focuses on a player's Charisma, measuring style and fashion sense.
Players can also join a squad with up to seven players, gaining access to a chat system, Daily Squad Tasks, and the ability to easily team up and find a game with any squad member. Playing a Quick Match with a member of your squad will earn you a 10% Bonus to all Bloodpoints earned during that trial.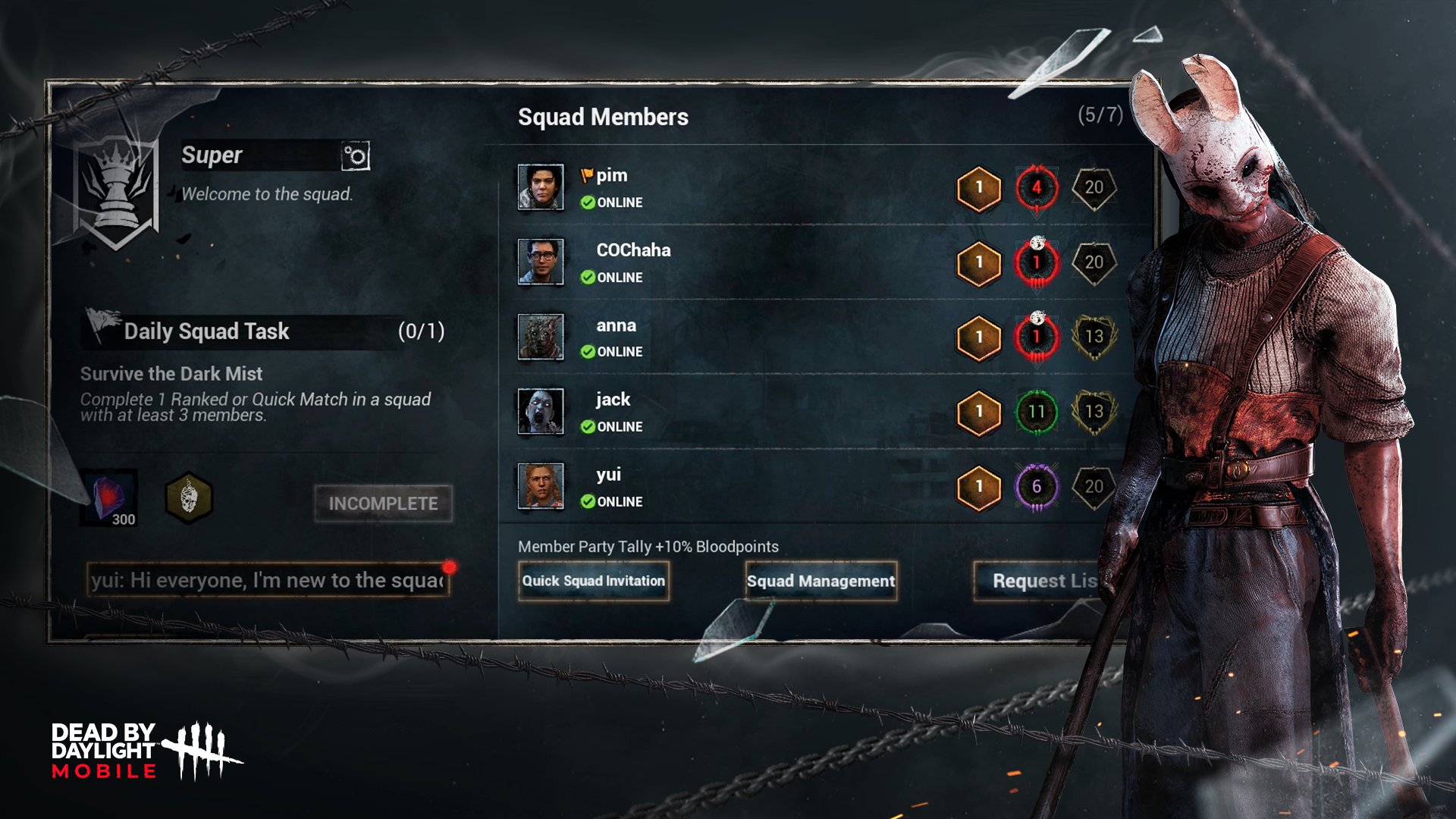 PLAYER PROFILES & TAG SYSTEM
Customize your own Player Profile with more options than ever before.
Highlight your favorite character with a variety of Avatars, which can be equipped and seen by all players. Players can also import their own custom images to be used as Avatars, though all images must be reviewed by NetEase. Rank up during a Season to earn and equip special frames. Players can also earn Trophies through gameplay, all of which can be displayed in their profile's Trophy Case.
We're also introducing a new tag system, which allows players to display key information about their gameplay needs, preferred playstyles, and more.
The first tag highlights your team requirements - for example, Rank Play, Need Friends, Need Mentor. This tag, visible in the Search Players menu, can help you find new friends that fulfil your team requirements. The second and third tags highlight your preferred hours of play and gameplay expertise, respectively. These two tags cannot be specifically searched for, but they can still be seen by your fellow players.
NEW GAME MODE
We're thrilled to announce the arrival of Quick Match, a brand-new game mode. Unlike Ranked, Quick Match will have no effect on a player's rank, though distribution of Bloodpoints, Iridescent Shards, and Character Experience will remain the same.
Both Ranked and Quick Matches will be available to play at all times, depending on your preference. We hope that players enjoy this new game mode.
THE ENTITY'S TREASURE
Players now have a new option to obtain cosmetics: The Entity's Treasure. For 200 Auric Cells, players can purchase draws to win cosmetic rewards. Featuring two prize pools-Standard and Special Limited-Time-players have the chance at winning cosmetics ranging from Uncommon to Very Rare to even Gold. Customizations of the Silver and Gold variety are only available through The Entity's Treasure-though players can receive an exclusive Gold tier reward by completing the Battle Pass.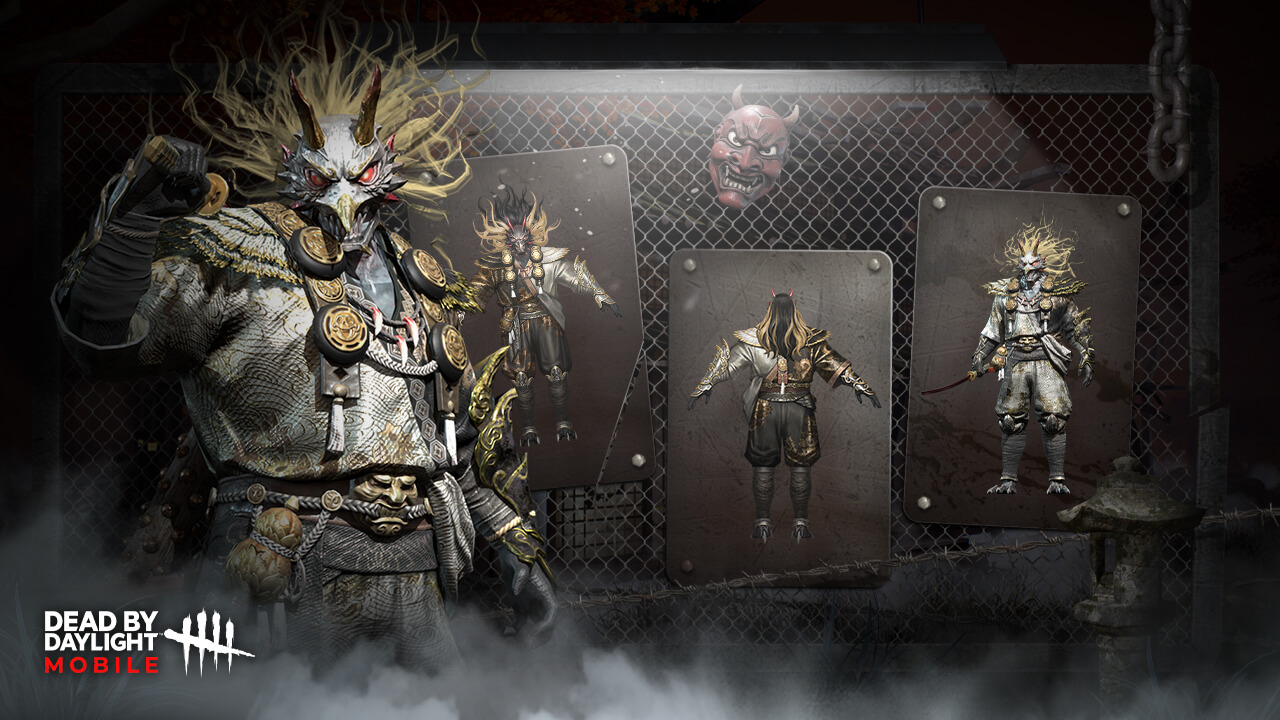 Should players receive a duplicate item, they are converted into Entity Coins. Use Entity Coins to upgrade a Golden outfit into its rarest Platinum version. In certain cases, Platinum rewards will also include brand new Memento Mori animations for select Killers.
Along with the updates listed above, players can expect additional changes coming to:
Custom Matches
Tutorial & New Player Experience
In-Game Controls
Quality of Life for Rank 1 Players
Report System & In-Game Chat
Anti-cheat mechanisms
And a whole lot more!
As NetEase will effectively launch a new version of Dead by Daylight Mobile, it's understandable that some of our players may have concerns about existing content they have earned. Please note as Dead by Daylight Mobile transitions into this new phase, all characters, outfits, offerings, add-ons, items, and more will be transferrable or compensated accordingly. However, all ranks will be reset following the transition to the NetEase version, providing players with a fresh start.
We're confident that NetEase will usher in an excellent era of Dead by Daylight Mobile, and we can't wait for players to experience everything for themselves. Speaking of which, the official United States Beta Test is officially open, so be sure to sign up now on Google Play or Apple Testflight - The Entity is waiting.
Follow Dead by Daylight Mobile on Twitter for the latest updates, and keep an eye out for the full release later this summer.
See you in The Fog,
The Dead by Daylight Mobile team.