Dead by Daylight Mobile | Halloween Video Contest
2023-10-18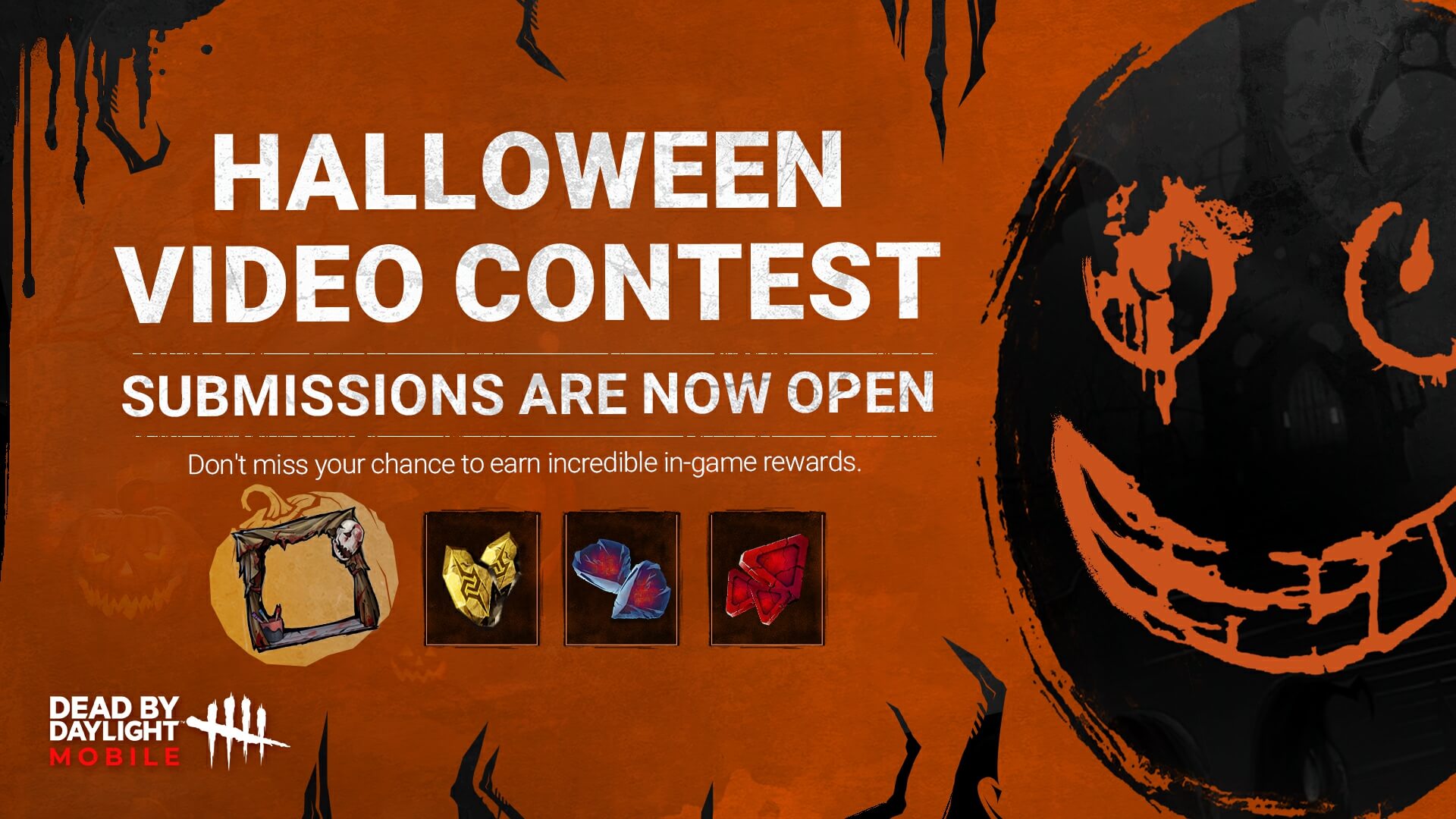 Embrace the fear and participate in Dead by Daylight Mobile Halloween Video Contest! Show us your spookiest gameplay moments during our special Crossover and Halloween season, and stand a chance to win amazing prizes. Join the Halloween madness in The Entity's Realm and let your creativity shine. Enter now and let the horrors unfold!
HOW TO JOIN
Step 2: Upload videos with the game title 'Dead by Daylight Mobile' and hashtags '#DbDMHalloween' '#DbDMxAoT' on Youtube
1. Video title must contain the game title 'Dead by Daylight Mobile'
2. Content description must use the hashtag '#DbDMHalloween' '#DbDMxAoT'
3. Content must be uploaded onto YouTube. Entries made on other video platforms are not eligible.
4. Upload videos by live streaming (> 1 hr) or videos (> 8 min)
5. Upload videos of Crossover and Halloween version of Dead by Daylight Mobile from 2023.10.26 ~ 2023. 11.09
6. Final result will be announced on December 8th
Rewards of Most Views
(*Only organic views will be taken into consideration, any submitted video/livestream with boosted views
will be invalid for this event)
100 Sinister Stones + 100,000 Bloodpoints + 5,000 Iridescent Shards
50 Sinister Stones + 50,000 Bloodpoints + 2,000 Iridescent Shards
20 Sinister Stones + 25,000 Bloodpoints + 1,000 Iridescent Shards
10 Sinister Stones + 10,000 Bloodpoints + 500 Iridescent Shards
All the participants who meet the video requirement:
Terms and Conditions
1. You have confirmed and agreed to this agreement.
2. You must post a video that complies with this agreement and notice for the event.
3. You must complete the entry after entering the necessary information from the official website of this event.
4. You are able to communicate with the staff of the administration office and other participants in English.
5. You are not a person who is engaged in NetEase Games (hereinafter referred to as ""organizer""), the management office, or an affiliated company involved in the implementation of this event.
7. Each player can only get the rewards once during this event.
8. By participating in this event, participants grant the organizer and its affiliated company a non-exclusive, worldwide, royalty-free license to use, reproduce, distribute, and display their submitted videos for any purpose. Participants must ensure they have all necessary rights and permissions for any copyrighted content used in their videos."
Prohibition of fraud related to the number of views
Participants are prohibited from using YouTube ads or similar ads in order to get more views of the videos posted for this event. In addition, if the number of views is earned by other acts that the organizer deems fraudulent, the participant will be disqualified. Other acts deemed as fraudulent include offering money, goods, etc. that generally have a market price or something similar to it in order to garner more video views. This is also the case if a participant's video obviously has too many views for its impressions, or too little engagement for its impressions. We will analyze from various aspects such as impressions, engagement, and 100% video audience rating, so in some cases, it may be necessary to authenticate the designated page of the administration office for the investigation.
Participants in this event must not do the following:
1. Violate this agreement.
2. Resell the awarded prizes on resale sites, etc., or transfer the right to receive prizes won to another person.
3. Disclose information about the operation of this event publicly without permission.
4. Participate by stating false information in the content of the declaration at the time of entry.
5. Transfer the right to participate in this event to another person.
6. Refuse to follow the instructions and requests of the administration office.
7. Refuse to properly answer the questions necessary for the event progress of the organizer.
8. Threaten or use violent or intimidating words/actions in the communication with the administration office/organizer or hinder the progress of the administration office/organizer.
9. Distribute the prize money to other participants.
10. Intentionally work on content related to video postings of other participants, or intentionally change the content related to video postings according to the work. (Adjustment of video posting/playback number, abstention, etc.)
11. Use obscene, discriminatory, offensive, likeness rights, or other names that may infringe on the rights of others, or other inappropriate in-game names that are offensive to public order and morals.
12. Use words or act in ways that offend or disappoint the organizer or the organizer, abuse or harass other participants, partake in or promote violence, incite other participants to act inappropriately, or perform other acts in violation of local laws and regulations on SNS, within ""Dead by Daylight Mobile"", at this event, etc.
13. Violate of the Terms of Use of ""Dead by Daylight Mobile"" as established by the organizer in the past and present.
14. Gamble on this event.
15. Take part in antisocial forces.
16. Enter into a sponsorship contract with a person or organization who sells or provides the following items or services, or promote the following items or services:
a. Porn, tobacco, alcohol, gambling, illegal digital content, and/or other items and services that are prohibited
b.Other services that violate the Terms of Use of ""Dead by Daylight Mobile""
c.Other products and services that compete with ""Dead by Daylight Mobile""
17. Other acts not listed here yet are deemed to be in violation. In addition to remarks, those that use in-game names and acts that are promotional are also targeted.
* This does not apply if the organizer has given prior consent.
18. Spread, participate in, or incite any of the following:
--Discriminatory content regarding race/ethnicity, gender, body/appearance, religion, etc.
--Solicitation activities and promotion activities for specific religions, ideas, politics, etc.
--Acts that discriminate against or cause harm to a specific person or group
--Indecent acts content such as sexual harassment
--Acts that make other participants feel uncomfortable, such as violence and acts of terror
--Any act or content that agrees with the above (the expression is different but the meaning is the same) or the same sound (the pronunciation is different but the meaning is the same), the metaphor, the proverb, etc. have the same meaning.
19. Violate confidentiality agreements if any.
20. Participants are prohibited from disclosing individual communication, inquiries, and/or questions with the administration office. If a participant wants to publish the above content, they must obtain the understanding and permission of the speaker and the administration office.
21. Acts that interfere with the fairness of the event.
About the scope of use of personal information
Personal information provided by participants will be used only within the following scope. It will not be used for any other purpose.
1. For entry to this event.
2. To use the video submitted for this event on organizer's official SNS account during and after the event.
3. To notify the participants of information regarding this event.
4. To respond to participants' inquiries.
1. This promotion program is organized by NetEase and is in no way sponsored, endorsed or administered by or associated with Behaviour Interactive Inc.